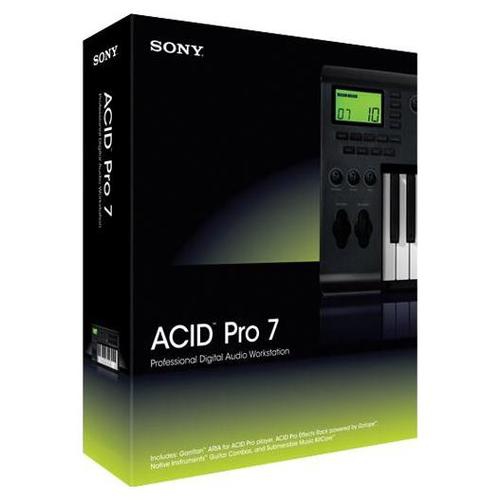 You earn by buying this product
+290
Sony ACID Pro 7, 1 user(s), Win, Windows 7/XP/Vista, 243 x 20 x 65 mm, 431 g, ENG
Grade:
0.00 (0 votes)
Description
Technical data
Review Product
Sony ACID Pro 7. License: 1 user(s). System requirements: Win, Windows 7/XP/Vista. Weight & dimensions: 243 x 20 x 65 mm, 431 g. Language: ENG
Mixing and Editing Features
The new professional recording features in ACID Pro 7 digital audio workstation software make efficient work of even the most complex audio productions. Simultaneously record multiple tracks of audio and MIDI, punch in and out on the fly, and audition effects with your signal before recording. ACID Pro 7 software increases playback performance on multiprocessor or multicore computers by creating a separate thread for each processor.

Multitrack Recording: Audio and MIDI
Simultaneously record multiple tracks of audio and MIDI into the ACID Pro 7 timeline through a variety of methods, including step recording, punch-in/out, continuous looping, and more. Arm multiple audio tracks, record alternate takes as clips, and select the one that sounds best to use in your composition.

Audio and MIDI Mixing Console New!
The new mixing console provides an integrated view of all tracks and busses in an ACID project with the appearance of a traditional hardware-based mixer. The look can be customized to provide you with the best view of even the most complex session. The new Audio and MIDI mixing console also has additional routing options, allowing for a more flexible and efficient in studio recording environment.

Input busses New!
Use the new input busses to record from external devices with effects, mix external audio sources with projects, use external effects processors with tracks and busses, and for real time input monitoring. Input busses help you gain greater control in routing of input signals, resulting in more customization and mixing options.

Real-Time Rendering New!
Real-time rendering allows users to include the output from an external input source with a project. Users can include the audio routed to external hardware including effects units and drum machines with their project, resulting in additional options for mixing and effects possibilities during a session.

Audio, MIDI, and Bus Track Meters New!
Quickly view and tweak audio and MIDI mix levels in real time using per-track metering. Metering at the track level is ideal for more precise mixing, so you get better sounding mixes with increased accuracy. These new meters can be customized, including position, scale, and horizontal or vertical meter options.

External Control Surface Channel Tracking New!
When a control surface is enabled, ACID Pro 7 software now displays an indicator in the Mixing Console track list to show which channels are under external control. This feature makes it easier to stay organized when working with numerous tracks.

5.1 Surround Mixing
Set up and mix 5.1 channel surround project files for audio and DVD productions. Use the surround panner for precise control over channel positions so you can optimize your projects for theater-style speaker placement and playback. Automate your 5.1 mix on the timeline using keyframes.

Tempo Curves New!
Set different tempos between two tempo markers for gradual transitions from one tempo to another over the duration of an ACID Pro project. Fade types include Linear, Fast, Slow, Smooth, Sharp, and Hold. Tempo Curves are an efficient way to create dramatic or subtle tempo changes in ACID Pro projects.

Metronome Countoff New!
The ACID Pro 7 metronome will now count off a determined number of bars prior to recording or playback, for greater timing and accuracy when recording a performance. Easily select the number of bars, and choose metronome sounds from a variety of wood blocks, drums, sticks, and more.

Film-Style Surround Panner
Film-style surround panning allows you to pan between pairs of adjacent speakers using a constant power model, and is optimized for theater-style speaker placement.

Frame-Accurate Video Scoring
Compose an original soundtrack for your video right inside the ACID software workspace. Just import your clip, set your markers, and watch your soundtrack's tempo lock to the visual cues of your choice. Drop one-shot sounds on your hit points, work independently with your video file's associated audio media, and render the finished project out in a wide variety of formats.

ACID Project Sections
Create project sections so you can rearrange time-based segments of audio and MIDI events in your ACID Pro 7 projects. Drag and drop to move or copy project sections and audition new arrangements without having to redo your entire project.

External Control Surface Support
Perform hands-on mixing using external hardware with ACID Pro 7 digital audio workstation software. Version 7 natively supports the Mackie Control Universal and the Frontier Design TranzPort, and allows custom mapping of up to five user-defined control surfaces. Send and receive commands to compatible outboard devices (to control record, transport, envelopes, faders, mutes, solos, pans, and effects automation.)

Custom labels for ASIO? devices and ports New!
Customize ASIO driver ports with labels to match your configuration, rather than relying on the default driver name.

Enhanced Plug-In Management and Scanning New!
With the new Plug-In Manager you can now sort plug-ins into various categories as well as rename plug-ins for better organization. Also, the plug-in scanning process has been enhanced in version 7, giving you faster access to your plug-in collection.

Track Record Meters
ACID Pro 7 software includes meters on each track to accurately monitor levels during recording.

Unlimited Media Clips Per Track
Place multiple media types on a single track to create dynamic musical compositions. Add one-shots, Beatmapped clips, loops, and disk-based files on the same track. Use the Clip Pool to organize and choose the events you want to use in your composition?your mixing options are endless.

Cross-Track Event Drag and Drop New!
Simply cut, copy, or paste events across multiple tracks for even faster editing.

Envelope Automation Recording
Record track envelope and keyframe parameters in real time using a mouse or external control surfaces with touch and latch record modes and automatic post-record keyframe thinning. Automation parameter control is available for both stereo and 5.1 tracks and buses.

Switches Including Normalize, Invert Phase, and Lock New!
New track, clip, and event switches in ACID Pro 7 software include Normalize, Invert Phase, Mute and Lock. Use switches to quickly normalize events and perform other processes from within the ACID Pro workspace.

Track Folders
Track Folders provide a more efficient way to view your project. Increase your efficiency by organizing several tracks into one track folder on the ACID Pro 7 timeline. Use cluster editing to drag, pitch-shift, cut, copy, and paste entire sections of loops.

Real-Time Event Reverse
Instantly reverse loops, one-shots, and songs in real-time?no need to export your file to another editing application.

Bus-to-Bus Routing
New bus-to-bus routing allows the creation of complex sub-mixes.

Downmix Monitoring
ACID Pro 7 software provides real-time downmix previewing of audio from 5.1 surround to stereo, or from stereo to mono, to ensure that your mix will sound as intended no matter what the destination playback device.

Beatmapper Remixing Tool
Use the Beatmapper tool to add tempo information to song-length files, including MP3s, to remix and combine music loops and create original mixes. Add beats, overlay samples, and give your songs an exciting new edge.

Enhanced Beatmapping for Tracks with Tempo Changes New!
New enhancements in ACID Pro 7 software make it easier to edit clip properties and Beatmap songs with varying tempos and time signatures. This provides you with more flexibility when composing songs and performing remixes.

Chopper Loop Editing Tool
The Chopper editing tool creates amazing drum fills, stutters, and DJ-style effects. You can also use the Chopper to "clone" loops, create chopped events, tweak separate parts of your loops, and even mix slices of multiple loops to create your own customized samples. All chopped events will play in sync with your ACID Pro 7 projects. You can also use keyboard commands to drop events from the Chopper onto the timeline in real time.

Drop One-Shots in Real Time
Insert loops and one-shots as you project plays back. You can also create your own loops in the Chopper and add them to the timeline in real time during playback via keyboard commands for live mixing.
License quantity
1 user(s)
Compatible operating systems
Windows 7/XP/Vista
Dimensions (WxDxH)
243 x 20 x 65 mm
This product has not been reviewed.
Shipping cost: € 13.50
€ 52.42